The First Elkhounds
Pabrisil Dagny......Tina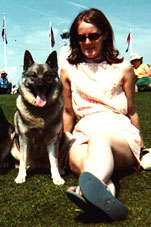 Tina was our first elkhound and our introduction to the showring in the 1960s.
She was campaigned mainly at Sanction, Limit and Open Shows where she won many BOBs. We had terrific fun with her and would be at a show locally, almost every week. My mother had been very ill and Tina became her incentive to recover.
--------------------------
Elga
Pabrisil Elga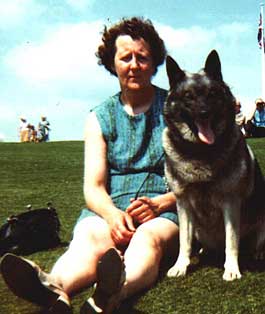 Elga was our second Elkhound, bred by Miss Mary Chadwick. She was descended from Kitty Heffer's Friochan line. She was quite dark and had the most wonderful deep dark eyes. A real character, she could be guaranteed to grab the tail of any passing dog! No dog ever argued with her as she had "the eye". She only had to look at them with her piercing stare and they would turn away. She didn't really enjoy showing But did win 1 CC.
Tina and Elga were born exactly 6 months apart and died exactly 6 months apart- to the day!
My Husband's Dogs
Loki
Norsegrey Tarka Troma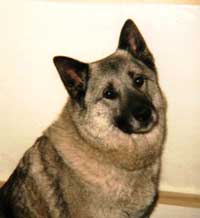 Ch Llychlyn Callanx MuirtonLisa
My husband's dog originally, I inherited Loki on our marriage.Loki was definitely a man's dog, much preferring their company to women. She accepted our new puppy with good grace and tried so hard to play with her but seemed off colour. She died suddenly and very unexpectedly of an aneurism at 9 years of age.
---
Shane
Mikalean Bjorg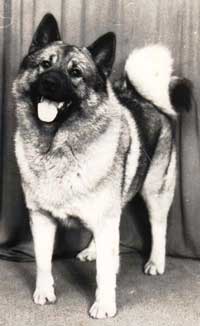 Ch Llychlyn Callan x Mikalean Anya
Shane also belonged to my husband. He was a real sweetie and loved his tummy tickles. Sadly he had been mistreated by schoolchildren when young and never regained any trust in children.