Callan and Hattie's kids
From Callan we kept Vikafjell Jori. A daughter of Ch Llychlyn Callan and bred by Mrs Maggs, Jo was our most laid back Elkhound. Nothing ever upset her. She was calm, quiet, adored children and lived for FOOD. She much preferred staying at home to the showring and loved nothing better than a swim in the local reservoir.

From Hattie and Callan, we kept Ch Vanya of Norderhove, our first home bred Champion.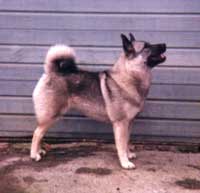 A real water baby, Penny was never happier than when swimming. She would drag you into the sea on holiday. At first afraid of children, she changed when William was born and for the next 11 years was devoted to him.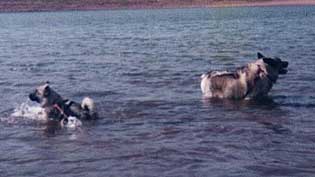 waterbabies, Penny with dad Cass
Silky
Silky Suzie of Norderhove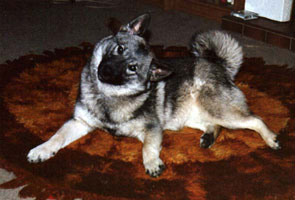 Ch Svenson Thor x Hilea Silmarien
We collected Silky from her breeder, Harry Rawlins in London and 2 weeks later took her on holiday. She was so tiny we had to carry her everywhere. She had a whale of a time barking at cows from our holiday cottage.
She had a wonderful nature and when a year later, our son was born prematurely she adopted him as her own. As with any dog, we were concerned for this tiny baby's safety but we brought his clothes home from the hospital and gave them to Silky, so that by the time he came home she knew his scent. Of course as soon as she realised that these little humans EAT, she was hooked.
Tragically, when she was only 2 and a half years old, she developed glaucoma. We took her to the Vet hospital in Edinburgh where she had an operation. Then followed years of check ups and tests, but sadly after 2 years, the operation failed. She had to have one eye removed and went completely blind. We considered euthanasia but she had adapted so well to her failing sight that we could not cut her life short. In all she lived 9 years in the dark but no one could tell. She could weave her way round obstacles without once bumping into them and ran loose in fields and on the beach. We took her everywhere with us and because she trusted us implicitly she never worried. She loved to meet other dogs and would play with them even though she couldn't see them.
Of course a blind dog is not to be taken on lightly. Some dogs are desperately unhappy and should not be left to suffer but to Silky it really made very little difference.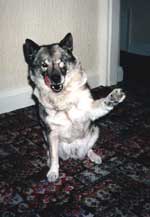 Naturally, our breeding plans had to stop. Glaucoma is hereditary and another litter from the same line had also developed the disease, so the whole line could not be bred from. There is only one way to prevent the spread of hereditary diseases and that is NOT to breed. Thanks to caring breeders, this is what happened in the UK.
Read about glaucoma and its treatment