Ch Kestos Quickstep
Our darling Quali
02/03/95-19/11/08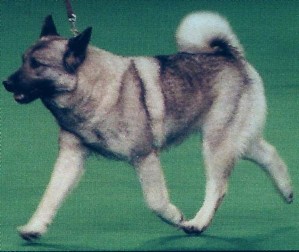 Ch Kestos Quickstep

winning the Hound Group at Crufts 1998

(Quali)

She asked only for food, and a human touch and she gave love and adoration a thousandfold in return.

My dear, dear Quali (Ch Kestos Quickstep) was her breeder, Barbara Stokesí dog of a lifetime. Winner of the Hound Group at Crufts in her youth and mother of three beautiful litters, she lives on in her children, grandchildren and great grandchildren all of whom inherited her incredible temperament, her wonderful dark gentle eyes and her love for all people. To my constant amazement and everlasting gratitude, Quali was entrusted to us in her retirement when she was 6 Ĺ years old as a companion for Poppy and never did two dogs so quickly become inseparable. Despite loving the hand that fed her, she quickly became my husbandís dog and spent hours laid across his knees. She always believed she was born to be a lap dog. Everyone loved her and she would let no one pass without putting out a paw and pulling them towards her for a chest rub. My son William became her newest puppy to nurture, wash and watch over.

When I became ill and bedridden, she had to be literally dragged away from my side to go outside and made the most incredible nurse, always finding the exact spot that hurt and licking it better. She had an incredible ability to find sores, illness or disease.

She suffered stoically from chronic pancreatitis for about 5 years but never once complained when the attacks hit. My vet adored her; the only dog whose teeth she would scale without anaesthetic and the only one that went to sleep in the surgery, laid belly up between my knees.

It seems cruel that having overcome the pancreas attacks, and getting a new lease of life with her playful greatgranddaughter,she should be taken so quickly by a totally different disease. The abscess on her chest actually hid a mast cell tumour.

She went as she lived, with a delicate lick of the arms that held her and a soft sigh.

She is survived here now by her great granddaughter Kestos Night Sky at Norderhove who looks so much like her granny I often called them by the wrong names and who, hopefully will comfort Poppy in the loss of her long time friend and who will miss terribly, her play fights and chases and cuddles with her teddy bear of a granny.

Iíve lost my shadow, my ever-present willing listener and my nurse.

Here is Quali with her daughter, Laska from her last litter.

Those ears are not really ready for take off, it's the camera angle!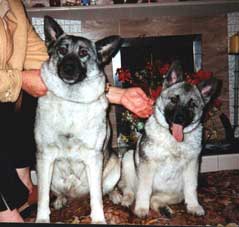 And here, below, is Sky, our new addition with her great grandmother Quali
Quali is now 13 years old and can't do with puppy play but she's very gentle as long as those needle like puppy teeth behave.
Here's Quali suffering the attentions of her great grand daughter Sky at 5 months old.
Here is Quali with Sky at 8 months old; now that Sky's bigger, great granny can get her own back. Quali's the one doing all the barking. Not bad for a 13 1/2 year old.